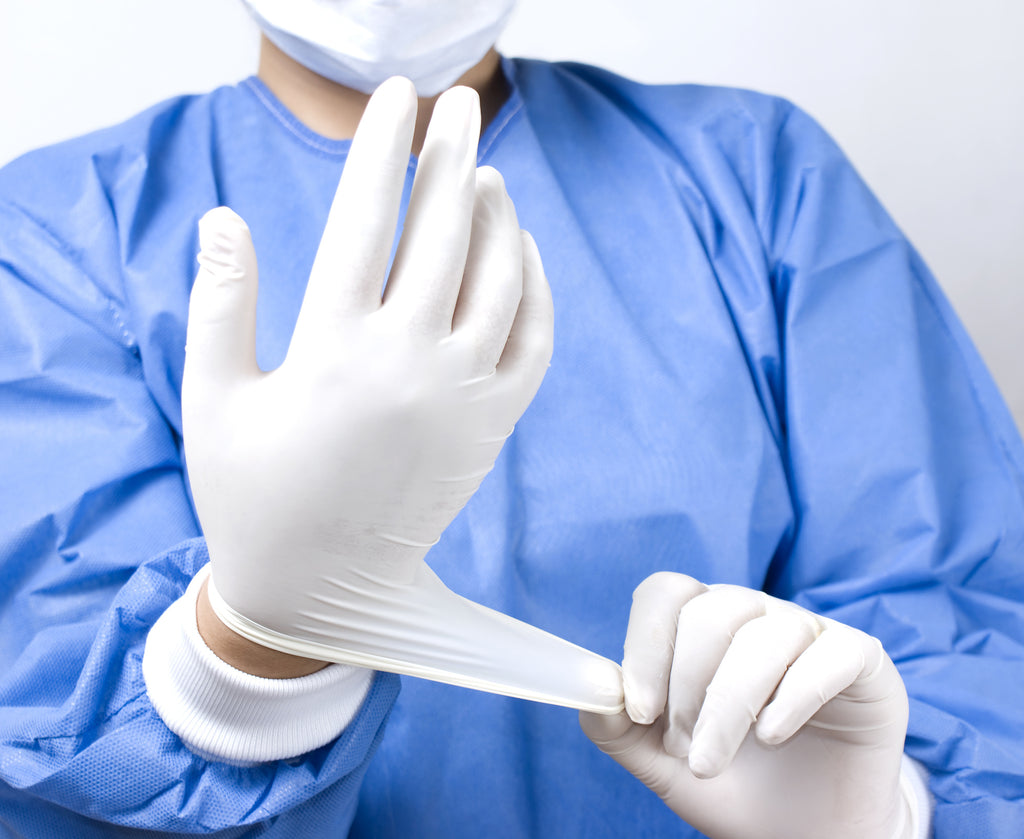 Hospital gloves represent cleanliness and order in a place where bodily fluids and microscopic bacteria run rampant. We know that wearing gloves keeps both medical staff and patients safe from incoming infection--and provides the hygiene needed to assure patients they are getting the best care.
From guarding against bloodborne pathogens to protecting from chemical burns, hospital gloves go a long way regarding fighting infection and keeping a clean environment. Here are six ways they can protect you when going under the knife.
1. Washing Hands Isn't Enough
Hand washing does do a lot to protect users from pathogens. So, by no means are we saying that you shouldn't bother washing your hands, doctor or not. According to the CDC, there have been some hospital-based studies showing that failing to wash one's hands was linked to the spread of infection within a healthcare setting.
And, this inattention has been the basis for several outbreaks. Studies have also shown that hand hygiene vigilance has helped cut down on the number of infections transmitted to patients during hospital stays.
So, with that in mind, healthcare professionals do spend a lot of time washing their hands. However, that doesn't mean they are 100 percent sterile. Adding sterile gloves to the mix provides patients with a layer of protection from bacteria and viruses that may have been missed during the washing process.
2. Gloves Are a Barrier Against Bodily Fluids
One of the main dangers of first aid or medicine is bodily fluids. Blood, vomit, urine, and feces, all pose the risk of cross-contamination. Especially if the person has an open wound.
We've all been taught from very early on that blood, and other fluids must be handled with the utmost protection. Gloves work to prevent the transmission of hepatitis B and C, HIV, and a whole host of diseases while treating patients.
Skin, on its own, does provide some protection against exposure to infection or disease, but our natural defenses may not be enough. In the case of HIV, where the patient has a weakened immune system, gloves protect the transmission of any pathogens from the worker to the patient receiving care.
3. Proper Fitting Gloves--A Second Layer of Protective Skin
To do their job, gloves need to fit properly. Too tight, and mobility is limited, and the gloves could tear during use. Too loose, and the gloves will do a poor job keeping out potential pathogens.
When work gloves don't fit properly, they don't allow for the control and protection to perform the tasks at hand. Doctors and nurses rely on their sense of touch for so many parts of their job, and gloves that don't fit have a negative impact on their ability to treat patients.
Poor fit lessens dexterity, causes hands to sweat, or get in the way. It's super important that whoever is responsible for ordering supplies measures employees' hands whenever hospital gloves need to be replaced. Even if this means ordering multiple sizes, you just can't cut corners when it comes to safety.
4. Gloves Also Provide a Layer of Protection Against Needles and Other Sharp Objects
Hospital workers, as well as those in other fields like the funeral business, law enforcement, and trash collection all risk coming into contact with needles or other hazardous equipment.
Gloves, while not a perfect piece of PPE (personal protective equipment), do help protect against things like broken glass, scalpels, and phlebotomy devices, broken glass--all of which can cause injury and spread blood-borne infections.
Some providers wear two sets of gloves, while others opt for a single pair of gloves designed to be needle-prick resistant. Nitrile gloves with added texture can go along way in keeping medical pros safe from injury and cross-contamination.
5. Gloves Protect Against Hazardous Chemicals
Another critical use of hospital gloves? Protecting against chemicals. While most of the uses for gloves in the healthcare space center around their use as a protection against the spread of disease, gloves play an essential role in protecting their users from the chemicals used in radiation treatment, chemotherapy and more.
Chemicals, like certain drugs or lab materials, used in a healthcare setting can be absorbed by the skin, resulting in unwanted side effects on the part of the medical staff.
6. Nitrile Gloves--Ideal for Reducing Instances of Latex Allergies
While latex allergies are generally not fatal, why use gloves that have the potential of a negative reaction?
Latex allergies tend to be more common in people with regular exposure to the allergen--so doctors, nurses, and medical aides could potentially develop an allergy with repeated use.
Nitrile gloves are more the norm these days. For one, they're made from a synthetic rubber--reducing the risk of an allergic reaction with use. The latex-free gloves are also more puncture resistant than their natural counterparts, protect the hands from pathogens, chemicals, pricks, and cuts.
Shop My Glove Depot for All Your Hospital Glove Needs
At My Glove Depot, we know how important hospital gloves are for ensuring the safety of patients and medical professionals alike. We offer a range of gloves from textured nitrile and traditional latex, to the less-common vinyl.
We've got gloves in all sizes, for all uses--our goal is to keep your hands safe no matter what you've got going on in the workplace.
Our gloves are sold by the case, which allows us to pass along the savings to you. Right now, you can buy one case, and get the second for half price. We know you'll be using a lot of gloves, after all.